Cosechando Salud
Harvesting Health
'Cosechando Salud' is the result of the community's request to have a program that ensures lasting access to healthy food. Our outreach promotoras grew 'harvesting health' from conversations with neighbors from Elyria-Swansea and Globeville about what would best improve the health, happiness, and wellness of the community. As result, in 2014, the program began providing cooking and exercise classes while providing fresh produce and nutritious foods through our partnership with Denver Food Rescue.
Food Boxes
Each Monday morning our volunteers gather to help sort donations and prepare food boxes for participants who are home-bound or otherwise unable to visit The GrowHaus. These boxes are tailored to each individual or family, and are designed to supplement nutrition for our participants.
Cost-Free Groceries
Following our free cooking and exercise classes, community members are invited to fill their own grocery bags or box with food donated by some of our community partners as well as the remaining produce from our own farming endeavors.
Cooking Classes
Volunteer cooks lead a bilingual cooking and nutrition class, teaching attendees about the importance of healthy eating while providing instruction on preparing truly delicious dishes.
Exercise Classes
Volunteer Irene Luna leads a free and energetic exercise class in Zumba, promoting good health and wellness for all ages and ability levels. Her high energy music and instruction makes our day!
Community Meal
Following our classes and volunteerism, we eat together, not only harvesting health but also nourishing strong community bonds between everyone involved with The GrowHaus. The program is a great way to start the week by getting energized with wonderful and enriching food, invigorating exercise, and a good spirit among people.
How it Works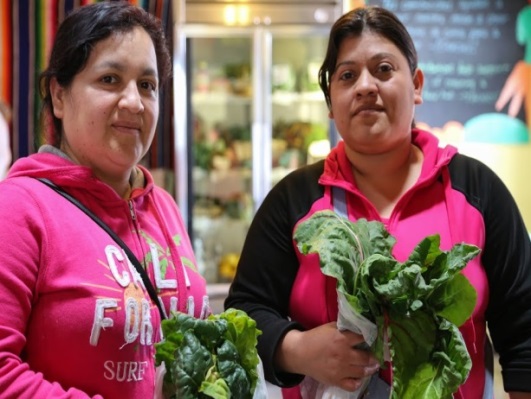 Each week Denver Food Rescue delivers food to The GrowHaus for distribution to the community.

Volunteers are needed to then sort through the food and ensure the best and most nutritious foods can be distributed to the community.

Mobile delivery to the home-bound ensures that those who are not able to access services receive supplemental nutrition each week.

The remaining food is then made available to the community in attendance.

Our cooking class helps to not only teach nutritious methods of food preparation, but to provide a community meal each week.

Our exercise class is free the community and provides a healthy start to the week.
Community Impact
Denver Food Rescue has donated literally tons of food to The GrowHaus' Cosechando Salud. This donation equates to tens of thousands of nutritious meals to our community.

Thousands of community members have received free, healthy produce.

Four Community resident jobs have been created to manage the food distribution programs

Over 50 hours of classroom cooking instruction have been offered

A mobile delivery service has been added to ensure that those with disabilities have access to fresh produce

Community involvement has increased, volunteers help prep and clean for classes

The distribution has become a safe place, creating a connection between neighbors, local organizations, and volunteers from around Denver.
Our 'Cosechando Salud' Partner
Denver Food Rescue is a nonprofit focused on improving health equity outcomes by increasing access to healthy foods in low income areas and food deserts. We do this by redistributing food donated by partnering grocery stores directly to the community members that are in need of supplemental nutrition.
The majority of these deliveries are made by bicycle and thereby our distribution costs are limited and focused on impacting our communities as efficiently as possible. Our deliveries are of highly perishable fruits and vegetables, the foods that are most important in food deserts and might otherwise go to waste. Our hyper-local, resident-driven model allows us to reach hard-to-access populations who might not be able to take advantage of other emergency food assistance.